I've had the great joy, via the Internet, of meeting a group of kids at a school in Agona Swedru, Ghana. As you can see by the photos with this blog, they are adorable, and their smiles transcend oceans, generations, color, creed, country, and make me light up as I'm sure they do for you as well.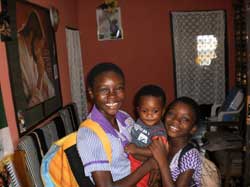 Jesse, Eric, and Shebom
One day, one of the kids started chatting with me, on Facebook, and I asked what they wanted or needed. She said they loved books. I told her we'd send some.
Getting the boxes from the Post Office
 Bringing the boxes home
As we are moving soon, we've got tons of things to organize and my boys both have more books than they need, than they will ever read again, plus toys they've long abandoned.  However, we actually didn't have that many kids' books!  But, our local library sells used books so we went over there and bought a bunch just for these kids, in addition to the ones we had that we thought they'd enjoy and appreciate.
The contents of the first box (see the crank flashlight in the middle?)
We gradually assembled and sent 3 boxes of books. My son, Aaron, put together the last and 3rd box which has yet to arrive. These photos were just posted on the Africa Zebras Facebook page (visit their page – become their friends!) and are truly examples of pictures being worth many thousands of words. You "get" the picture.
Guess who got the flashlight? (Kuulu)
Now, how about sending some of your books? They're mostly girls, aged 7-10, and they especially want biographies of great women, from anywhere and everywhere. But, toys, stuffed animals, a used laptop, games, are all going to be joyful gifts to them.
Sister Sheba reading her first Dr. Seuss book!
Little Jesse reading a Lego magazine – now we need to send them Legos!
Their address is:
Frank Bennin
P.O. Box 719
Agona Swedru, Ghana
I found the most economical way to send them is via the flat international rate that the USPS offers with their own boxes. It still costs $55 but you can get alot in those boxes. Please send some and please tell them you're a friend of mine!
Boy, did we smile looking at the photos. My son can't wait until his box arrives next. What a great parenting lesson in sharing and helping others!